SKEET'R BEAT'R adds extra living space using a motorized screen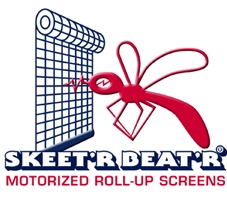 Thank you for your interest in SKEET'R BEAT'R motorized roll-up screens. SKEET'R BEAT'R is the original manufacturer of the patented roll-up screen and has been in business for over twenrty years.
Homeowners are able to add extra living space to the home with the Skeet'r Beat'r system.
This product turns any outdoor space into a bug-free family space, just by pressing an automated control button. Instantly, a motorized screen keeps the bugs out while allowing breezes to cross-ventilate the home.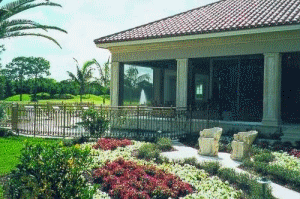 The Skeet'r Beat'r system is ideal for single or double garage doors, front entry areas, lanais, and just about any open-air space that a homeowner would like to convert to a bug-free environment.
The smooth-operating motor raises and lowers the screen automatically. When it's up, the screen is hidden from view and protected from the elements. When down, the nylon brush bottom seal keeps out the "creepy crawlies" from the yard and allows the outside air to flow through.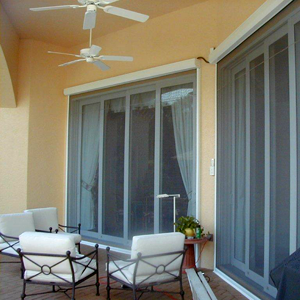 With a wide variety of screen types available, Skeet'r Beat'r can be custom designed for any application. If building a new home, Skeet'r Beat'r' can work with an architect and builder to install motorized, automatic screens right into the new residence during construction. This product is perfect for pool lanais, patios, balconies, gazebos and decks; perfect for Southwest Florida living.
Pictured to your right is a custom Skeet'r Beat'r sliding glass door installation.

View photos of Skeet'r Beat'r screen installation projects here.