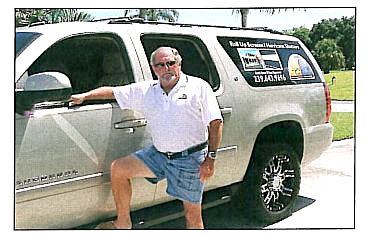 Please let me introduce myself and the history of Spectre of Naples Inc.
My name is David Hanes and I have been married to my beautiful wife, Patricia (a Naples, Florida native), for over 40 years. I have been a resident of Collier County, Florida for 43 years, have been involved in the hurricane protection industry for 35 years, my first 18 years with Wrol-Up Shades & Shutters. In 1979, there were only two local companies in the business. In the current yellow pages, there are over 75 companies in the hurricane shutter category. Most of these are former installers or sales people who have decided to "go their own". At least 20 of these companies start up annually and cease operations within a year.
In 1989, I discovered a very intriguing product called Skeet'r Beat'r. My wife and I set up Spectre of Naples, Inc. and purchased the area distributorship. We are the #1 distributor world-wide. 95% of our business is a result of referrals. I receive many requests for hurricane shutters based on my huge referral base of previous customers. Please click here to view a list of builders we have worked with. I am proud to be able to provide my clients with the very finest products available at a price commensurate with the product.
I would be pleased to meet with you to explain all of the different options for hurricane protection, retractable screens, and retractable awnings. I personally oversee all installations and they must meet my demanding standards.
You are welcome to contact me by cell phone anytime: 239-572-3180. I look forward to meeting you and hope that I can be of assistance. You may also contact me here. I will get back to you as soon as possible.
Discover the amazing screen and shutter products that we represent and distribute and install in Southwest Florida here.