Genius Sheer Screens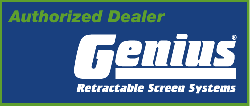 There is a buzz at Genius and we wanted to share the news with you!
We have recently unveiled a new resizable pleated retractable screen!

This Sheer Screen is currently the hottest selling retractable screen product in Europe and it is popular in part because:

This is fresh, new technology. In North America very few people have seen these pleated retractable screen systems
The pleated screen is very elegant in appearance
The screen is extremely fast and easy to install
The screen has NO bottom rail making it wheelchair and ADA friendly
The screen does not use a tension spring and this means that the screen is easy to open/close with just the gentle touch of a finger
The screen perform great in windy conditions
And, the screen is easily resizable
This product is new, unique and it is a real attention-getter!