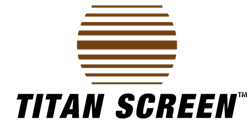 Titan Screen™
Protecting the Inside from the Outside
See Titan motorized screens installed by Spectre of Naples here.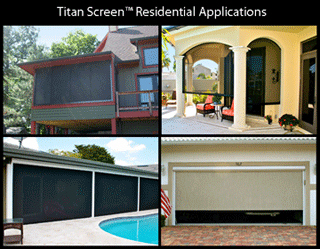 Motorized Retractable Screens for:
Porches
Patios
Balconies
Windows
Doorways
Lanais
Gazebos
Or any other outside space that needs protecting!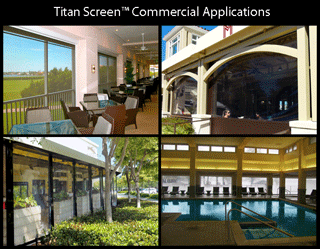 Why Choose Titan Screen™?
Quality Construction
Reliable Motors & Electronics
Low Maintenance
Long Lasting
Benefits of Retractable Screens:
In place when you need them; retracted when you don't. Won't obstruct those beautiful views.
Protection against damaging solar rays, insects, debris, wind and rain.
Reduced energy usage - Solar screen deflects up to 95% of ultra violet solar rays.
Available in a variety of colors and screens to enhance the beauty of your property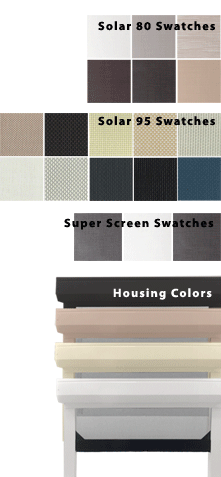 Warranty:
10-year pro-rated on screen material*
*excludes clear vinyl, which is not supported by a warranty.
5-year pro-rated replacement warranty on motors & electronics
1-year on powder coating and all other materials and labor
Standard Housing Colors:
Solar 80 or 90 Screen Fabrics:
Solar 95 Screen Fabrics:
Super Screen Fabrics:

View photos ofTitan Screen™ screen installation projects here.
See Titan motorized screens in action here.
Contact us for complete selection of screen fabrics available.
Titan Screen™ Bruchure


Click here to download the Titan Screen™ print brochure in PDF format. These motorized retractable screens protect your inside from the outside. Read about the features and fabrics and much more here.